Hi Ladies,
Collection #6 is now launched!

Prices include normal postage unless otherwise stated!
Do join our
facebook
page for first hand updates and previews!
We are sure you are on your way to be awed by our subsequent collections!

Do read our Ordering Information + Terms and Conditions page for an awesome shopping experience :)
To place an order:
1) Leave a comment in the given format
2) An invoice will be sent to your email account
(Please check your spam or junkmail as it might have landed up there)
3) Proceed with payment within 24 hours time frame to secure the piece and reply with payment details in the given format
4) We will mail out your item after payment verification


We accept POSB & UOB transfers:

POSB Savings 247-15880-4
UOB Uniplus 425-370-929-9

Have a wonderful time @ our humble ground!

Love,
Pegs & Racks
London Red Draped Front Top
SGD 20 mailed (normal postage)
A result of elegant and chic combined. Go bold with this statement silky matt piece.
Pair it with leggings for the optimal look! Tuck it into your staple shorts to hide those drapes at the bottom for absolute dress down days or tie up the drapes to wear it mid rift, sailor style!
Gorgeous gorgeous flowy piece in absolute quality!

Length (longest) : 31.5"
Length (shortest) : 26.5"
PTP: 16"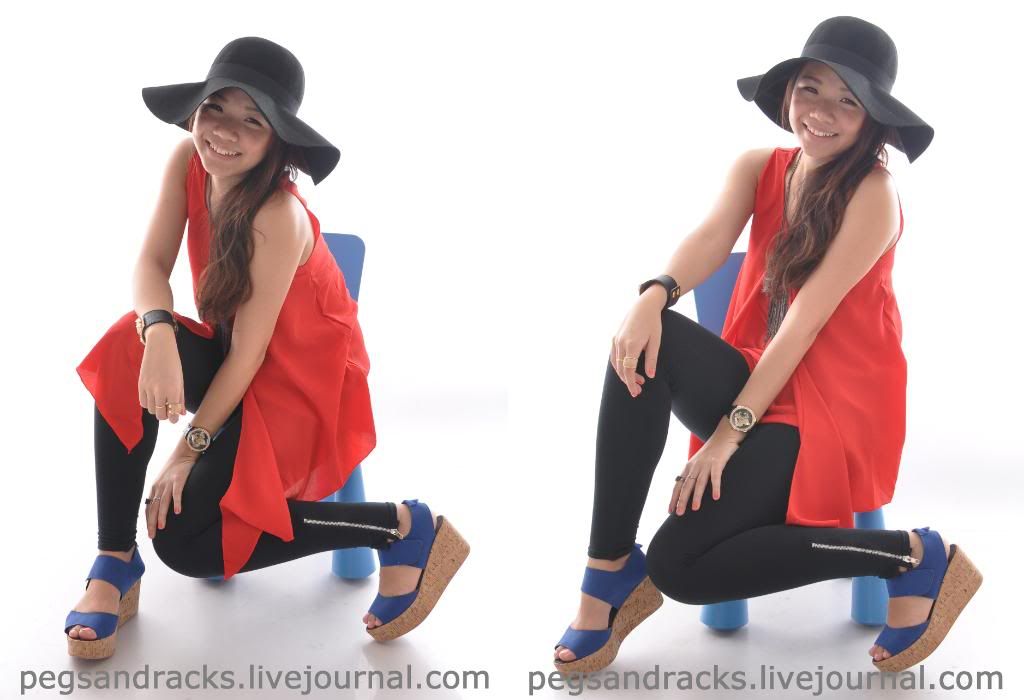 Toffee High Waist Cropped Pants

SGD 18 mailed (normal postage)

A more relaxing high waist cropped pants in a milky coffee colour.
This piece comes with a elasticized waist band to suit a variation of sizes. Let the cropped pants down or pull it up for a lazy look.
Definitely a good piece to bring along for your holidays as you roam the streets of a foreign country in these slacks!

More so when pairing it with our cream ruffles outerwear from 1st Collection!
Absolute comfort!

Waist: 13" (stretches up to 16")
Length (top down): 35"
Length (centre of waist down): 10.5"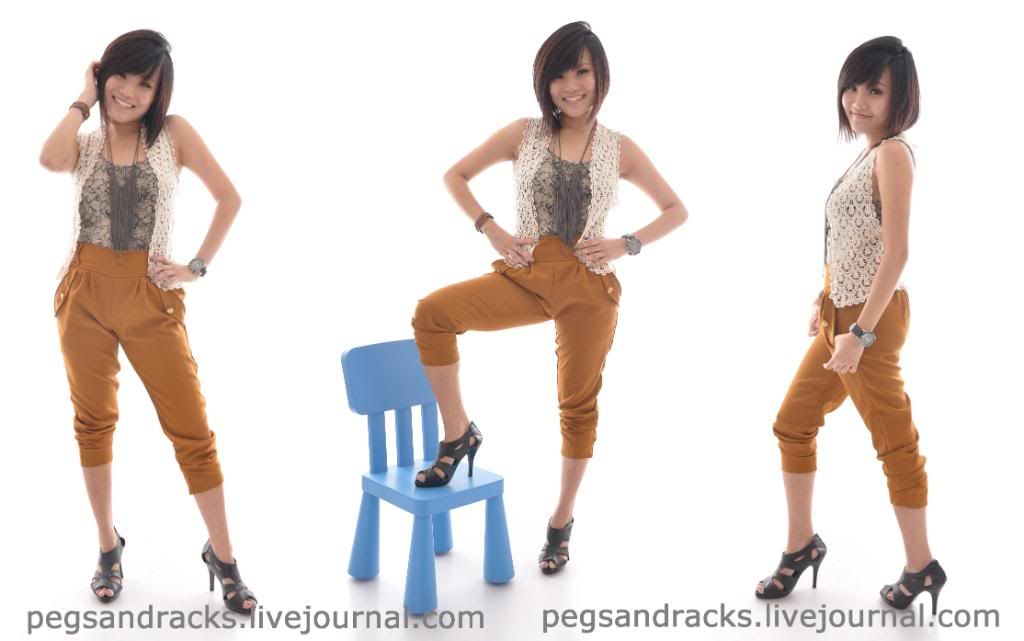 High Waist Cropped Pants



SGD 19 mailed (normal postage)


or


SGD 36 mailed for 2 pieces (normal postage)
Featuring a high waisted portion 5 buttons long! Allow your silhouette to stand out. This piece enhances the waist and redefines the whole meaning of high waist! Bring it to the next girls gathering with the never failing high heels or walk the streets in this chiffon piece with the usual pumps or sandals. It will not fail you!

Available in 2 gorgeous colours.
-Coral for the bolder and chic ones

(Slightly sheer. Nude undies advised)


-Black for the elegant and sophisticated ones

(Please indicate your colour of choice for orders to be taken in!)


Waist: 13.5"
Length (top down): 32"
Length (centre of waist down): 13"


SHADOW BLACK
**ALL SOLD**

CORAL
**ALL SOLD**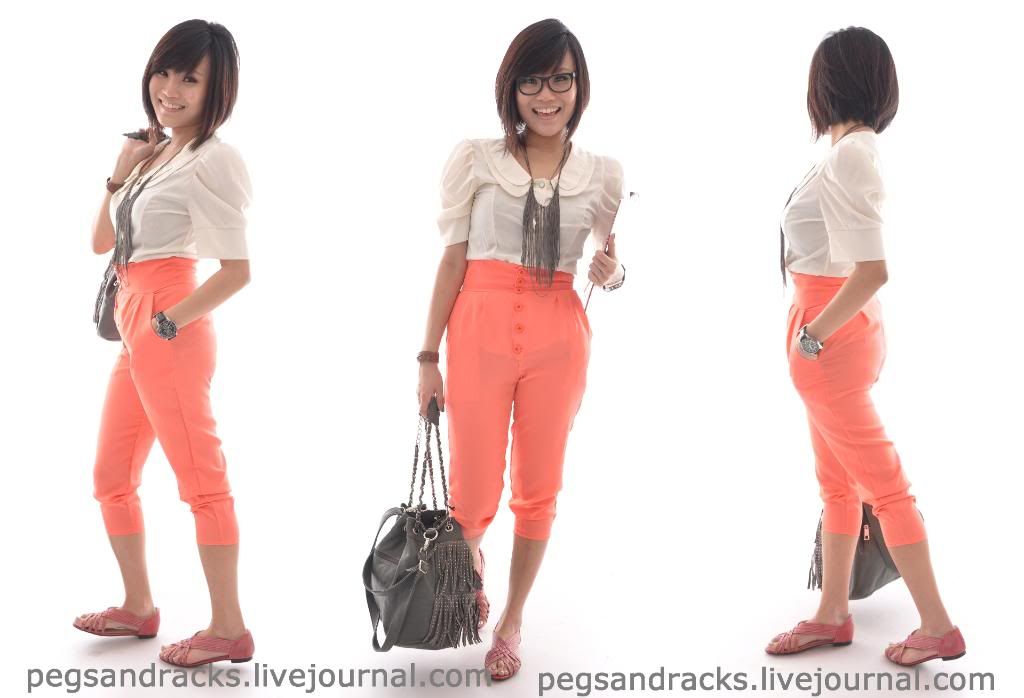 High Waist shorts

SGD 18 mailed (normal postage)
or


SGD 34 mailed for 2 pieces (normal postage)


or


SGD 49 mailed for 3 pieces (normal postage)
Lighten your weekdays with cheery colours and rock that weekend with all smiles. With bold and solid colours already back in fashion, prep your cupboard with all the colours you love and forget that black. It is so difficult to go back now!
We know the essentials of having similar pieces in different colours.

So, without burning a hole in the pocket, here's an awesome deal :)
No more fretting over which colours to get when you know you love all!
Available in 3 solid colours.
-Sunny Orange to hit chill-out nights with the girls
-Crayon Blue to hit the parks and gardens with the dates on lazy Sundays
- Red to hit the streets and go down town in comfortable fashion (literally)

(Please indicate your colour of choice for orders to be taken in!)


Waist: 14"
Length (top down): 14.5"
Length (centre of waist down): 13.5"
Leg opening: 11.5"

SUNNY ORANGE

CRAYON BLUE
**ALL SOLD**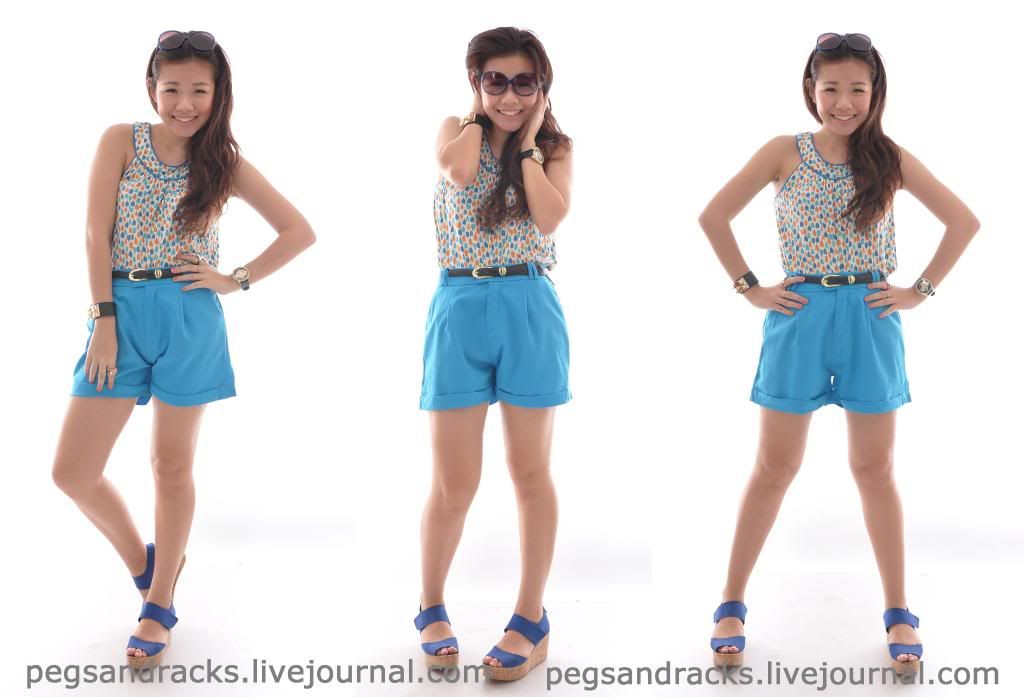 BURNT RED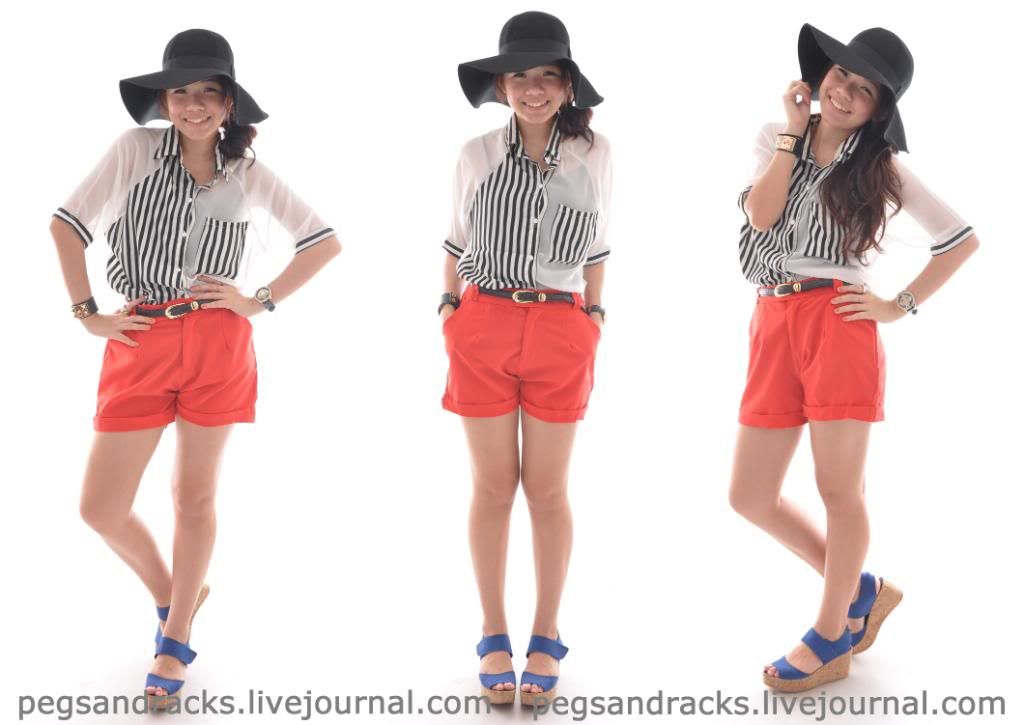 Asymmetrical Striped Shirt
SGD 17 mailed (normal postage)
This lazy chiffon piece is perfect for those dress-down days without looking any simpler.
With stripes at odd areas and seemingly illogical, this asymmetrically striped shirt saves you from wrecking brains putting a chic outfit together. Pair it with ANY coloured bottoms and you are really good to go (chic) :)
We kid you not!
(Inner spag not included)


PTP: 21"
Length: 23"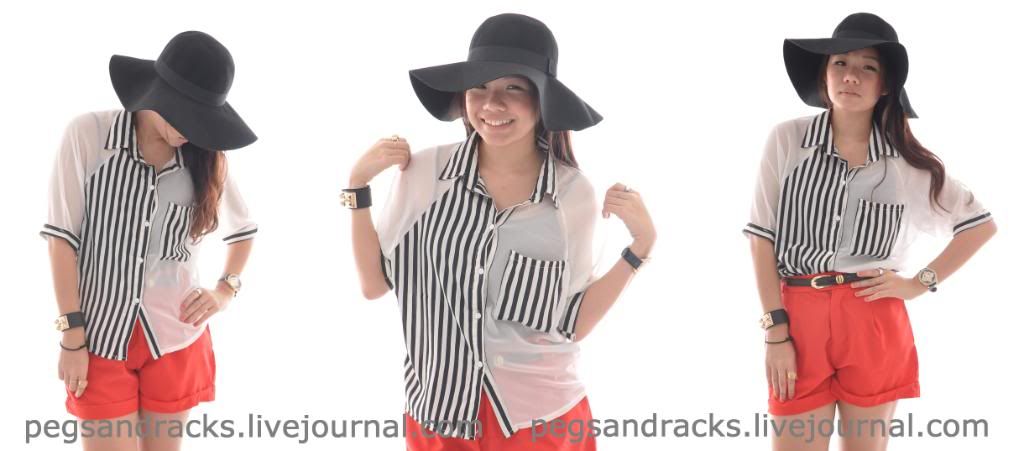 Tangerine Slit Skirt
**ALL SOLD**
SGD 17 mailed (normal postage)

Convert the old trend of high waist skirts – they aren't only confined to elegance and simplicity and pleats!
Go the funky or chic style in this beautiful orange. You don't have to deliberately glam your top when pairing with this statement piece. Soften this polyester skirt with a denim vest or a simple 'hard' top. Mini skirt concealed within so you ladies can put your worries behind about the slit exposing the thighs :)
Comes with a concealed zip behind.


Want to own many of the statement colours in your wardrobe but afraid of getting them on the thought you might not wear them often? Again, we have an awesome deal :) you can't refuse!
Once strut your way down the street boldly (pun intended) you will never look back :)
Waist: 12.5"
Length: 34"
Inner skirt length: 21"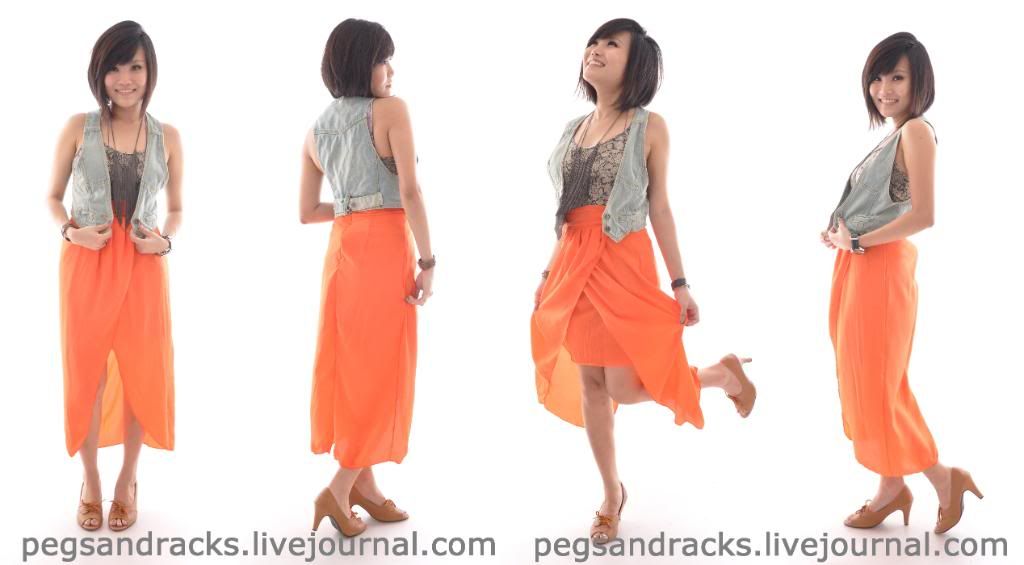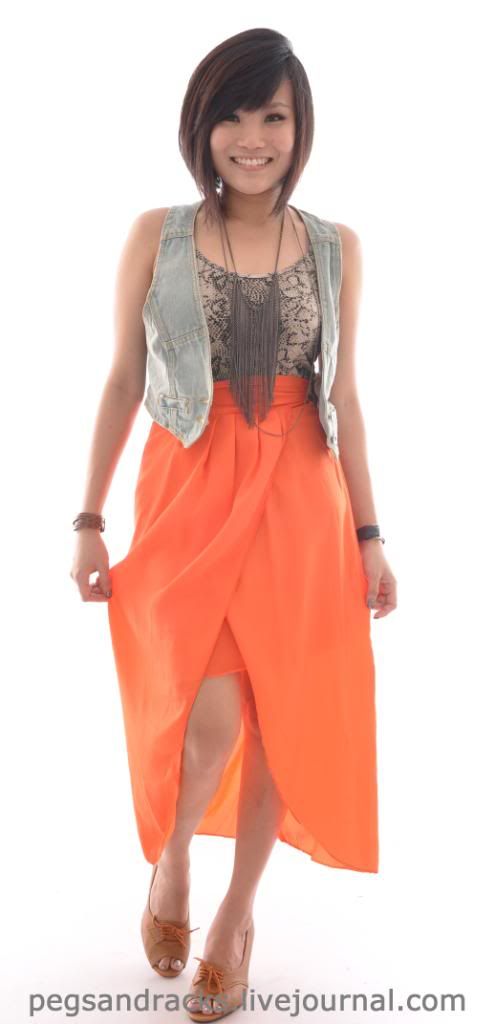 Model Li Ern (with long hair) stands at 1.65 c.m.
Model Mel (with short hair) stands at 1.53 c.m.


Please leave a comment with the following.
Item(s) of interest:
Email:
Confirmed: Yes/No
Join mailing list:

(to receive first hand updates and previews!)